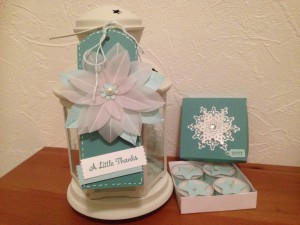 Vorige week gingen we op bezoek bij de buren en hebben we dit leuke setje als cadeautje geven.
Last week we visited our neighbors and we gave them this little set as a hostess gift.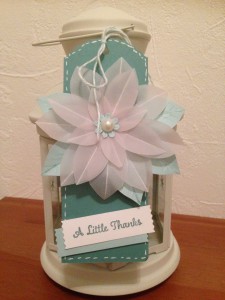 De basis is een Ikea Latern for tealight: Rotera. Ik heb er een label aangemaakt in de koele kleuren Lost Lagoon, Pool Party en Whisper White. De kerstroos is gemaakt van Vellum papier. Wat krijg je toch snel een leuk resultaat met al die verschillende ponsjes!
Base for the gift is a Ilea Latern for tea light: Rotera. I have made a label in some icy colors. The flower is made of Vellum paper. You have a real quick and nice result when you use punches!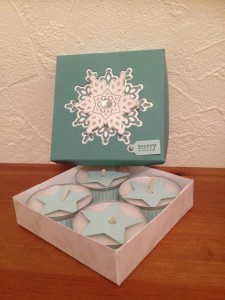 Tevens heb ik een doosje gemaakt met daarin 4 waxinelichtjes. Een beetje washi tape om het houdertje, een sterretje op het lontje en het ziet er meteen veel feestelijker uit (wel verwijderen natuurlijk als je het kaarsje aan gaat steken!) De decoratie op het doosje is gemaakt met de Festive Flurry set van 2 jaar geleden – nog steeds een van mijn favorieten.
I added a little box that holds 4 tea lights. A bit of washi tape around the holder, a punched star on the pit (do not forget to remove if you light the candle!) The lid was decorated with the retired Festive Flurry set – still one of my favorites.
Zeg nou eerlijk; tijdens deze donkere maanden is dit toch veel leuker geven dan een bos bloemen?
To be honest is this not cuter than giving a bunch of flower this time of year?
Lotte