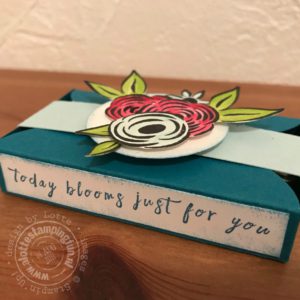 Deze week zijn we tijdens Koffie met Kaart aan de slag gegaan met de Lots of Love Box Framelits en de stempelset Perennial Birthday. Niet om een kaartje te maken, maar een leuk doosje waarin precies 2 Merci chocolaatjes passen. Het doosje is heel eenvoudig te maken met de Lots to Love box framelits.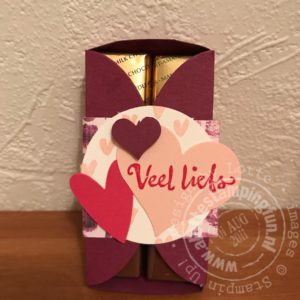 Afgelopen woensdag had Lotte er voor haar collega's eentje gemaakt in Valentijnstinten. Maar voor dit doosje zijn we geinspireerd door de kleuren van de Perennial Birthday Project Kit  die op pagina 16 en 17 van de lente/zomer catalogus staat, Wij kozen voor Island Indigo, Soft Sky, Berry Burst en Lemon Lime Twist.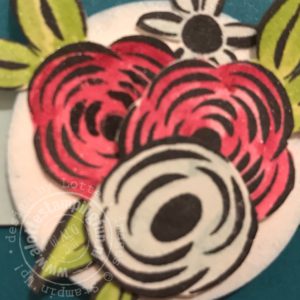 Je hebt nodig:
Island Indigo CS: 12 x 10,8 cm voor de basis van je doosje of 4-1/4 x 4-3/4 inch for the base of the box
Soft Sky CS: 2 x 19,5 cm rillen op 4,5 – 6 – 14 en 15,5 cm voor de buikband of 3/4 x 7-3/4 inch score at: 1-3/4, 2-3/8, 5-1/2 and 6-1/8 inch for the belly band
Shimmery White CS: 1,2 x 7,2 cm voor de tekst en een stuk om op te stempelen en een cirkel uit te ponsen of 1/2 x 2-7/8 inch for the tekst and a piece to stamp on and punch out the circle
Stempelset: Perennial Birthday
Inktkleuren: Basic Black, Soft Sky, Lemon Lime Twist, Berry Burst van deze kleuren ook de refill
1-1/2 " circle pons
de BigShot met de Lots to Love Box Framelits
en verder je vouwbeen, schaar, je favoriete SU lijm en Stampin'Dimensionals
In onderstaande video laten we zien hoe je heel gemakkelijk dit leuke doosje kunt maken.

We wensen je ALotteStampingFun met het maken van dit leuke doosje
Product List