Dear international readers.
Welcome to our blog, Please use the translate button up in the right hand corner to read this blog in your preferred language.
Het is vandaag woensdag 2 oktober, de eerste woensdag van de maand dus tijd voor de maandelijkse youtube hop waar we aan mee doen. Deze keer hebben we gekozen om te werken met de stempelset "Abstract Impressions". Deze superleuke stempelset is ook verkrijgbaar in het Nederlands "Bloemen zeggen meer"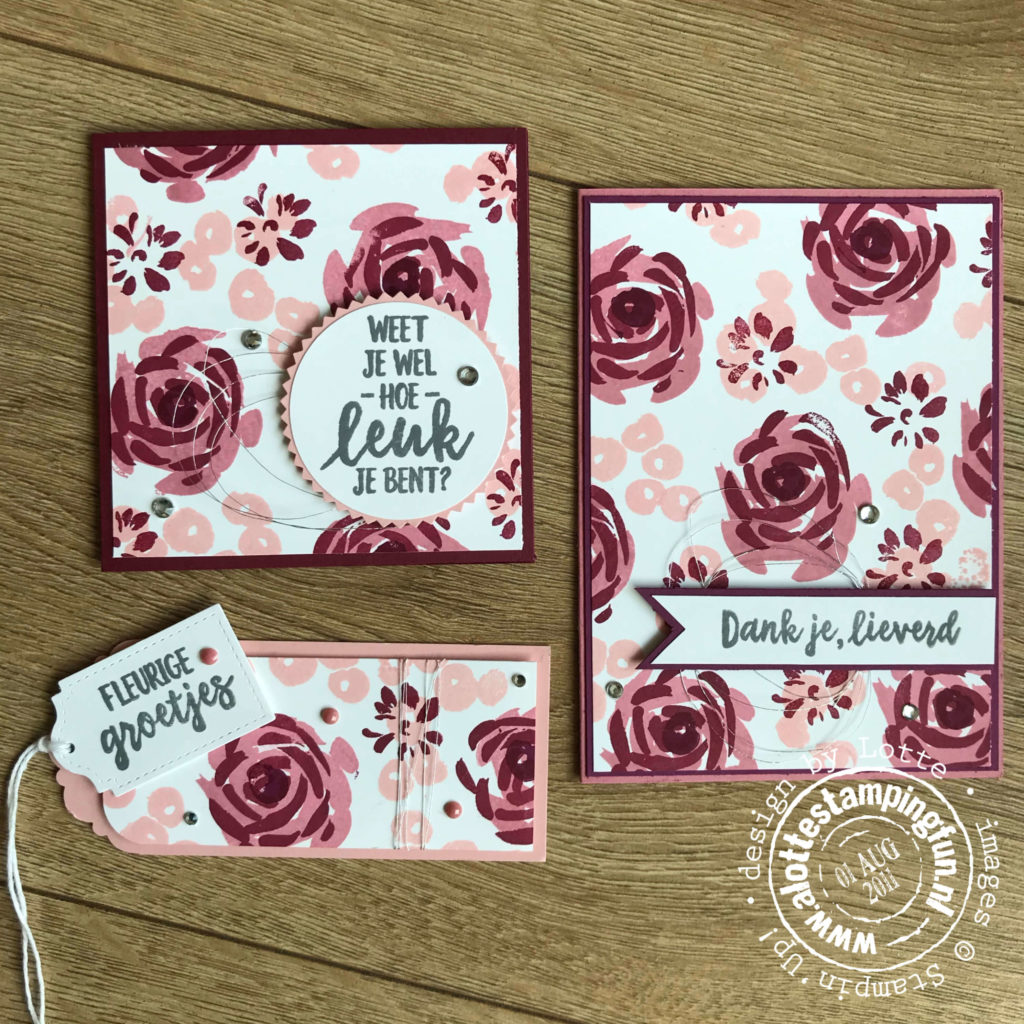 Leuk setje met dezelfde achtergrond
We hebben 3 projectjes gemaakt met eigen gemaakt achtergrond papier. Hoe je dat doet? Dat leggen we in onderstaande video uit.
Afmetingen
Rechthoekige kaart: basis Rococo Rose, mat 1 Rich Razzleberry, mat 2 achtergrond papier
basis: 14 x 21 cm rillen op 10,5 cm
mat 1: 13,7 x 10,3 cm
mat 2: 13,4 x 9,9 cm
5-1/2 x 8 inch rillen op 4 inch
5-3/8 x 3-7/8 inch
5-1/4 x 3-3/4 inch
Vierkante kaart: basis Merry Merlot, mat achtergrond papier
basis: 10,5 x 10,5 cm
mat: 10 x 10 cm
basis: 10,5 x 10,5 cm
mat: 10 x 10 cm
Label: basis Blushing Bride, mat achtergrond papier
basis: 5 x 12 cm
mat: 4,5 x 10 cm
basis: 2 x 4-3/4 inch
mat: 1-3/4 x 4 inch

Hop lekker door
Kijk ook bij onze internationale collega's voor nog meer inspiratie met deze superleuke stempelset die heel veel mogelijkheden biedt. Klik op de link achter de naam om naar hun inspiratie video te gaan.
Susan Hagadon – USA – https://youtu.be/lZt3MBulQX4
Diane Hutchinson – Canada – https://youtu.be/OnFggOWAx60
Tricia Smith – Scotland – https://youtu.be/lcoUuKDYeyQ
Tracy Bish – Australia https://bit.ly/2m19i3E
Geische Preissler – Germany – https://youtu.be/lZt3MBulQX4
Liz Yuille – UK https://youtu.be/ql0IT_Ct7SY
Lieve groetjes,
Dit zijn de producten die we voor dit project hebben gebruikt:
Product List

En deze producten gebruiken we altijd
Product List
| | | | | |
| --- | --- | --- | --- | --- |
| | | | | |
| | | | | |