Dear international readers.
Welcome to our blog, Please use the translate button up in the right hand corner to read this blog in your preferred language.
Welkom bij de Global Monthly Video Hop. Deze maand een hop met de kleuren van de vlag van het land waar we Stampin'Up! demonstratrice zijn. Hoe leuk is dat! Het zal je ongetwijfeld opvallen dat er veel met rood en blauw gewerkt gaat worden want die hebben de boventoon in de vlaggen.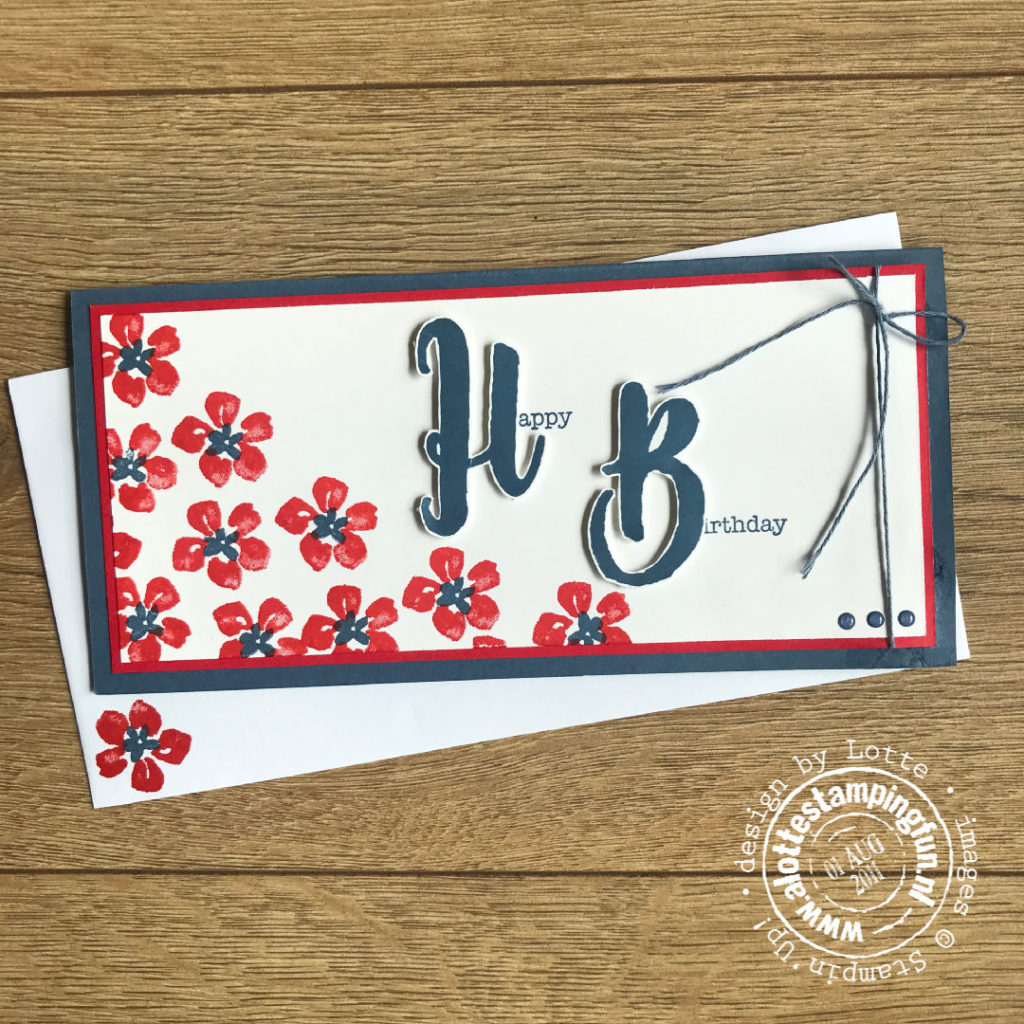 Rood, wit en blauw
Voor deze hop gebruikte Lotte de nieuwe InColor Misty Moonlight voor de blauwe tint en Poppy Parade voor de rode tint. En twee superleuke nieuwe stempelsets: Monogram Messages en Blossoms in Bloom. Het is een lange smalle kaart geworden die je vrij snel kunt maken.
Basiskaart (Misty Moonlight): 21 x 20 cm, ril 20 cm zijde op 10 cm
Mat 1 (Poppy Parade): 20 x 9 cm
Mat 2 (Whisper White): 19,5 x 8,5 cm (2 stuks)
Werkwijze
Hoe? dat laten we je in onderstaande video zien:
Wat hebben de anderen gemaakt?
Klik op onderstaande links om te zien wat voor leuks onze collega's gemaakt hebben met de kleuren van hun vlag. Je zult weer verrast worden!
Tricia Smith – Smiths Crafty Creations – Scotland, UK: https://youtu.be/9iC0uYXi3hA
Gesche Preißler – Geschtempelt – Germany: https://youtu.be/8vPlXg0vNz4
Diane Hutchinson – Crafts by the bow – Alberta Canada: https://youtu.be/L4fyjdAc72Q
Jean Piersanti – Beauty and the Stamper – USA: https://youtu.be/Det8CaXNfiI
Tracy Bish – Australia: https://bit.ly/3dn5zSN
We vinden het heel erg leuk als je een reactie achterlaat hier op het blog of bij de video's.
Heb je iets nodig of heb je een product gezien dat je graag wilt hebben? Wij verzorgen graag je bestelling. Je kunt je bestelling emailen naar lotte@alottestampingfun.nl en wij zorgen ervoor dat het zo snel mogelijk bij je komt!
Lieve groetjes,
Dit zijn de producten die we voor dit project hebben gebruikt:
Product List
En deze producten gebruiken we altijd
Product List
| | | | | |
| --- | --- | --- | --- | --- |
| | | | | |
| | | | | |