Dear international readers.
Welcome to our blog, Please use the translate button up in the right hand corner to read this blog in your preferred language.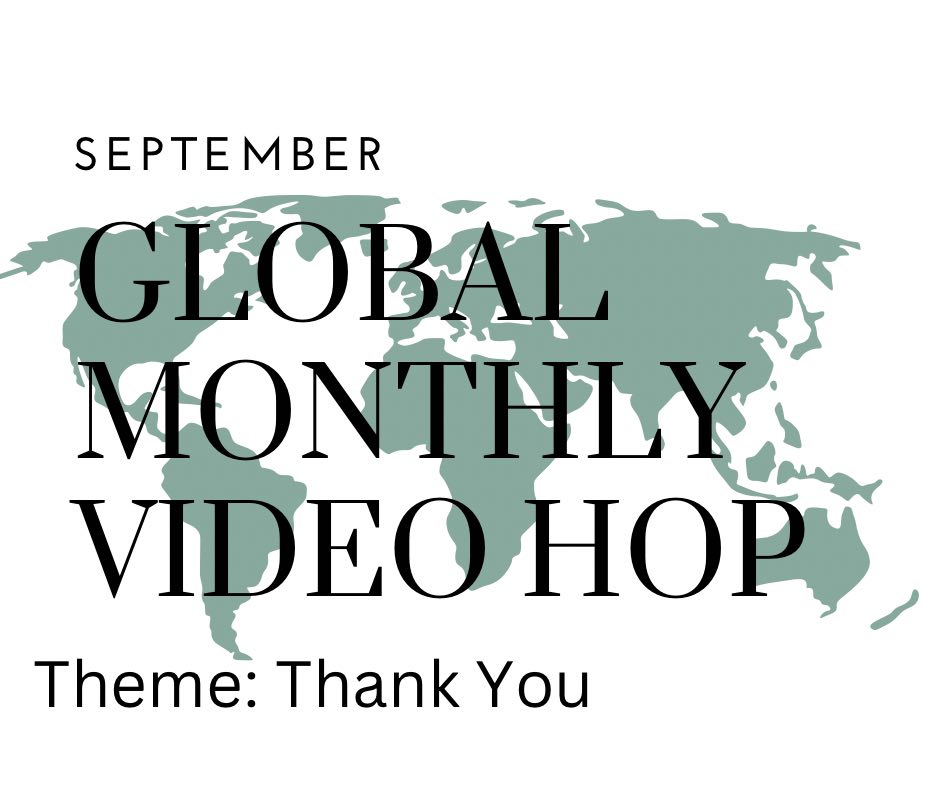 Het is de eerste woensdag van de maand dus het is weer tijd voor de Global Monthly Video Hop. Deze maand gaat het Design Team je inspireren rondom het thema THANK YOU. Altijd leuk natuurlijk om iemand te bedanken zeker wanneer je daar dan ook nog een klein aardigheidje bij doet.
Knoppers Mini verpakking
Bij het Kruidvat kwamen we een zak met Knoppers Mini's tegen. Superleuk (en lekker) om te verpakken als een klein cadeautje natuurlijk. Dus dat hebben we dan ook gedaan.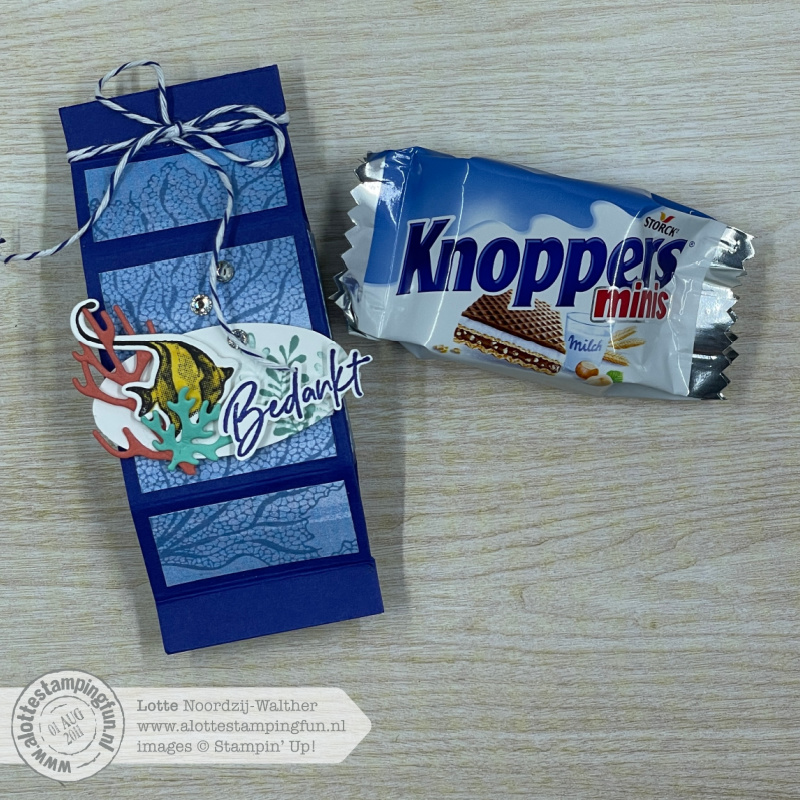 Onder aan deze blogpost vind je de afmetingen, de video en de materialen die we hebben gebruikt voor deze leuke en smakelijke dank je wel attentie. Het lijkt trouwens wel of we een nieuwe favoriet hebben… De Beauty of the Sea met de bijpassende stansen is zo leuk om te gebruiken en er verschillende projecten mee te maken! Je zult hem vast en zeker nog vaker tegenkomen.
Hop door naar de anderen
De andere leden van het Design Team hebben ook weer wat leuks voor je gemaakt met het thema Thank You. Je kunt hun video's bekijken door in onderstaande lijst op de link achter hun naam te klikken. Wanneer je bij ons begint kom je eerst op ons YouTube kanaal terecht en daarna kun je vandaar ook doorhoppen
Lotte Noordzij-Walther – ALotteStampingFun – the Netherlands: https://youtu.be/QjIq1SQrt5U
Tracy Bish – Australia: https://youtu.be/Mi285z-qB_U
Michelle Critchley – C & C Designs – New Zealand – https://youtu.be/cwWPM59qTGQ
Danielle Bennenk – Mrs. Brightside – The Netherlands: https://youtu.be/maodCCxaY2c
Jenn Ford – CK Card Connection – Canada: https://youtu.be/EPNeqWeqPuI
Gesche Preißler – geschtempelt – Germany https://youtu.be/E0-NMBNpCPQ
Jean Piersanti – Beauty and the Stamper – USA – https://youtu.be/PhZOIjF7xu4
Jackie vanderSar-Boot- The Pampered Stamper- Canada- https://youtu.be/3NrhHhmAGFQ?si=xigDW1NV5xq72CGG
Afmetingen
Basis Starry Sky: 13 cm x 10,5 cm
13 cm zijde rillen op 1 – 3 – 7 en 9 cm – stip op 2 en 8 cm en diagonaal rillen (zie video)
10,5 cm zijde rillen op 1 – 3 – 7,5 en 9,5 cm
DSP Fresh as a Daisy:
2 * 7 cm x 3,5 cm – bestempelen en dan aan weerszijde van de 7 cm zijde strook van 1,5 afsnijden
2 * 4 cm x 1,5 cm
Werkwijze
Hoe je deze leuke verpakking heel eenvoudig zelf maakt zie je in de video die we voor de Global Monthly Video hop hebben gemaakt. Je kunt de video HIER of door te klikken op onderstaande afbeelding bekijken.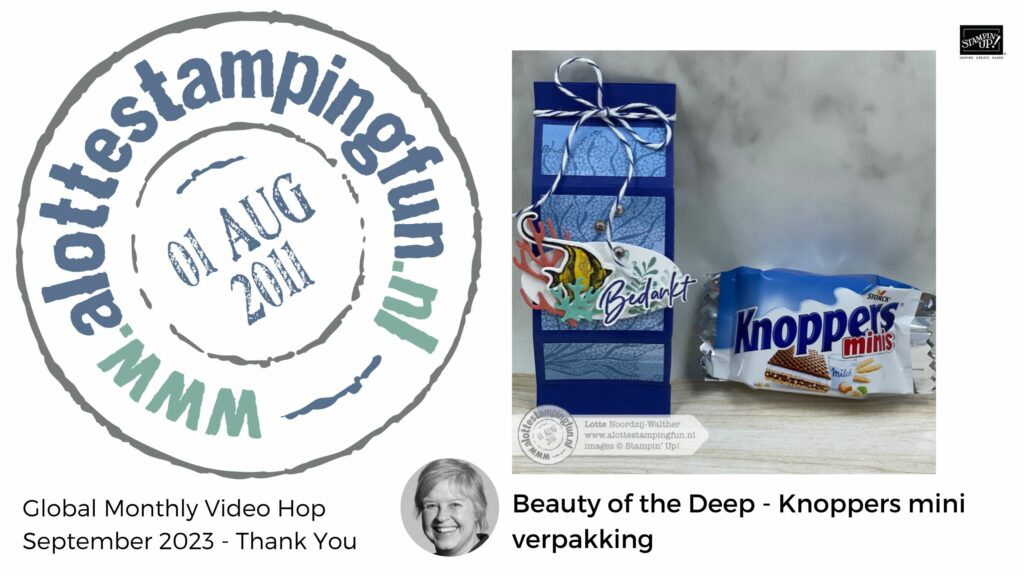 Heb je iets nodig of heb je een product gezien dat je graag wilt hebben? Wij verzorgen graag je bestelling. Je kunt je bestelling emailen naar lotte@alottestampingfun.nl en wij zorgen ervoor dat het zo snel mogelijk bij je komt!
Lieve groetjes,

Dit zijn de producten die we voor dit project hebben gebruikt:
Product List

En deze producten gebruiken we altijd
Product List
| | | | | |
| --- | --- | --- | --- | --- |
| | | | | |
| | | | | |